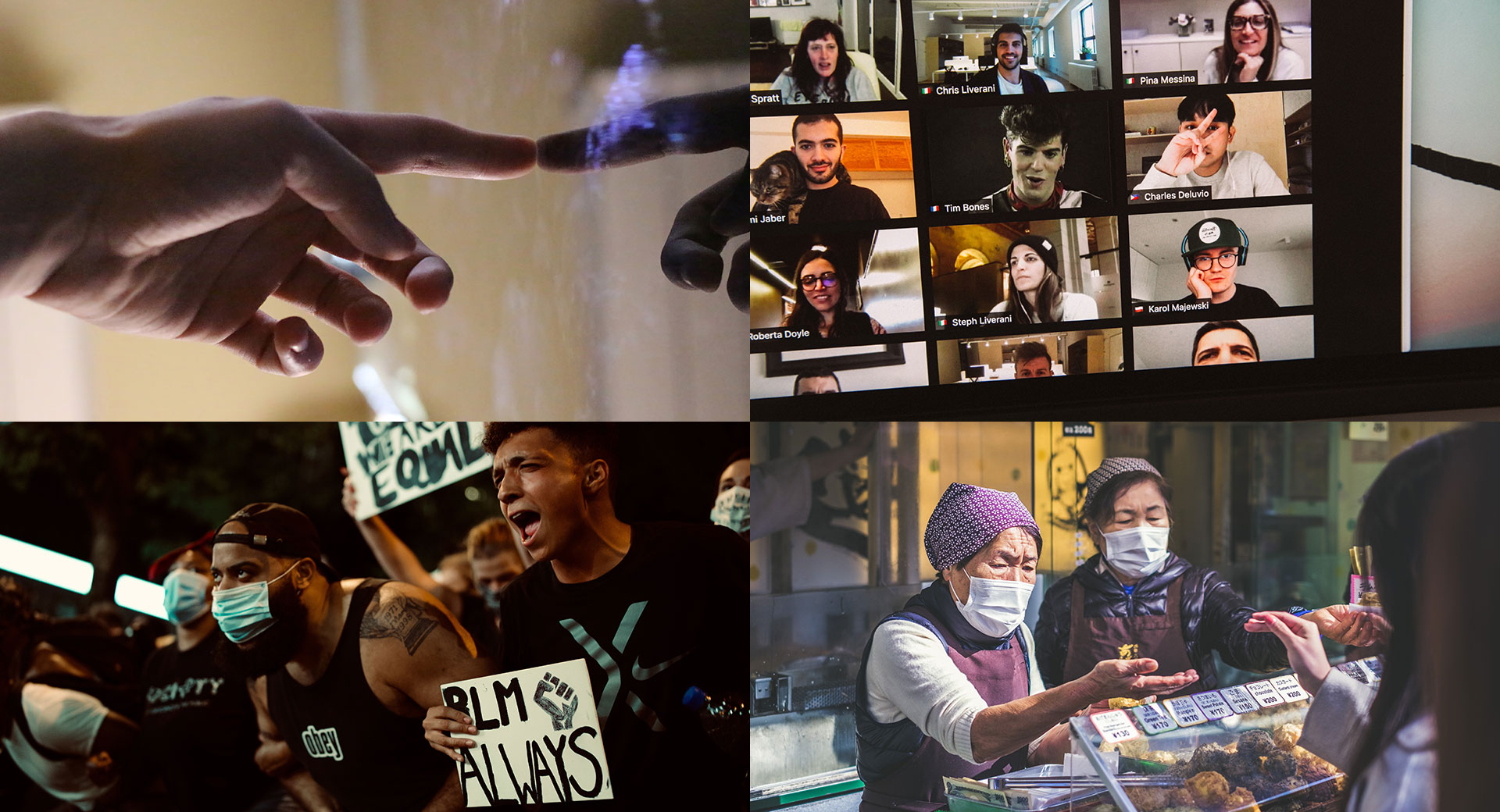 UCLA Department of Theater and the Center for Performance Studies present the
2021 Graduate Student Conference: Contact - Performing Proximity
Date: Feb. 19-21, 2021
Hosted by University of California, Los Angeles via Zoom
Call for Papers and Performances:
From its Latin roots, contact describes encounters facilitated by and through touching (con-tactus). In an increasingly globalized and mediatized world, touch between audience and performer, the human and non-human, the material and the virtual, the past and the present, all evoke explorations of how contact is shaping and is shaped by performance, both within the everyday and the aesthetic realm. From the #MeToo movement to the rise in global protest following the murder of George Floyd, from the increased detention of immigrants to the COVID-19 pandemic and its myriad repercussions, contact reverberates with possibilities for connection, violence, reconciliation, and desire.
This graduate conference invites work that explores the performance and potentiality of contact, both problematic and utopic, as a means of curating a larger discussion on how Performance Studies can inform readings of touch, connection, and communion between and across disciplines. We seek diverse, interdisciplinary approaches to the topic of contact, especially in relation to:
Affect, intimacy and the senses
Alienated/racialized/minoritarian positionalities
Borders, migration, Indigeneity and the (post)colonial
Ecological relations and post-humanism
Historiography and touching/embodying the past
Human and nonhuman engagement with music/soundscapes
Immersive/interactive performance
Materiality in performance
We are seeking submissions for papers, performances, digital humanities projects, and other creative engagement practices. Please submit an abstract, performance description, or project description here no later than Nov. 1, 2020. Graduate students, faculty, and practicing artists are encouraged to submit. Any questions can be directed to uclatapsconference@gmail.com Applicants will be notified of acceptance by Dec. 15, 2020.
KEYNOTE SPEAKERS:
Daphne Brooks (Yale University)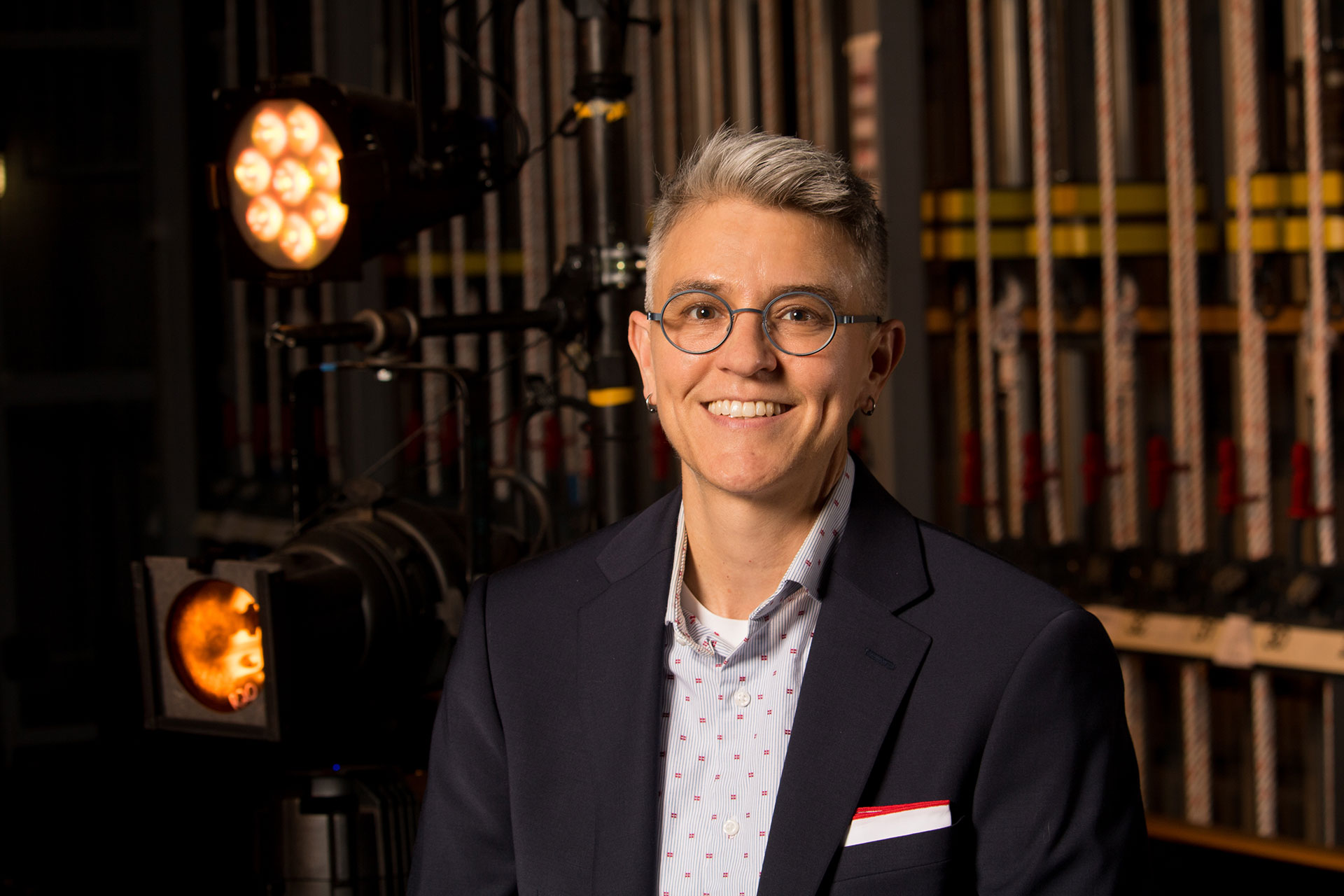 Sarah Bay-Cheng

Sarah Bay-Cheng [pronounced Bay-JUNG, rhymes with "sung"] is the Dean of the School of the Arts, Media, Performance and Design at York University in Toronto, Canada. She was formerly Chair and Professor of Theater and Dance at Bowdoin College, teaching theater history and theory, dramatic literature, and intermedia performance. Her research focuses on the intersections among theater, performance, and media including cinema history, social media, and digital technologies in performance. Recent publications include Performance and Media: Taxonomies for a Changing Field (2015) and Mapping Intermediality in Performance (2010) as well as essays in Theater, Contemporary Theatre Review, and Theatre Journal, among others. She edits the Palgrave book series, Avant-Gardes in Performance and is a co-host for On TAP: A Theatre and Performance Studies podcast. Bay-Cheng frequently lectures internationally and in 2015 was a Fulbright Visiting Scholar at Utrecht University in the Netherlands. She has served on the boards of Performance Studies international and the Association for Theatre in Higher Education, and is currently a member of the Executive Committee for the American Society for Theatre Research (ASTR). Bay-Cheng has also worked as a director and dramaturg with particular interest in intermedial collaborations and a fondness for puppetry.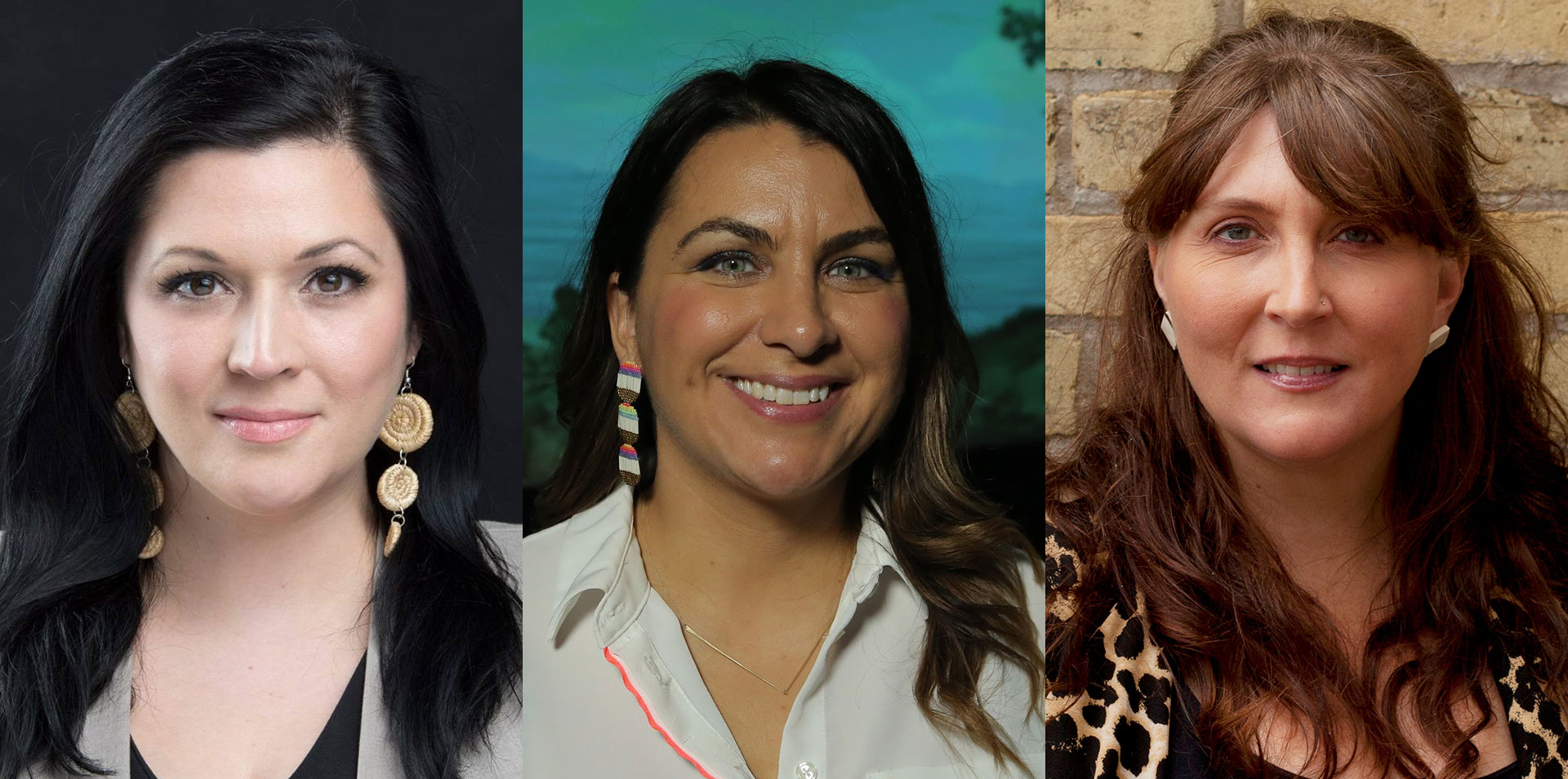 GLAM (Galleries, Libraries, Archives and Museums) Collective: Heather Igloliorte (Concordia University), Julie Nagam (The University of Winnipeg), Carla Taunton (Nova Scotia College of Art and Design University)
GLAM Collective (Dr. Carla Taunton, Dr. Julie Nagam, Dr. Heather Igloliorte) is a collective of scholars who work on and through Indigenous theory and methodologies, public art, performance art, digital technologies, and curatorial and artistic practices that engage with space and place. GLAM Collective was founded 2018, but we have more than a decade of experience prior to that collaborating through publications, exhibitions, research-creation projects, presentations, symposia, workshops and other initiatives. Notably, in 2016 we together co-edited the special issue PUBLIC 54: Indigenous Art: New Media and the Digital, and throughout 2018 and 2019 we co-curated the three-part, nation-wide artist incubator and public art exhibition series, Memory Keepers, in the cities of Montreal, Charlottetown, and Halifax, as well as Gathering Across Moana (2019) in Toronto. Led by Nagam, we collaborated on the Transactive Memory Keepers digital archive and mapping project from 2016-2019; directed by Igloliorte, we are currently engaged in the $2.5M SSHRC Partnership Grant, Inuit Futures in Arts Leadership: The Pilimmaksarniq/ Pijariuqsarniq Project (2018-2025), which trains and mentors Indigenous postsecondary students to take up agential roles in the arts; led by Taunton, we are co-curating the international Indigenous contemporary art programming of Nocturne, Nova Scotia's premiere night festival; and directed by Nagam, we are working towards a new major transnational partnership, The Space Between Us (2020-). Igloliorte and Taunton previously co-edited the special issue of RACAR, Continuities Between Eras: Indigenous Arts (2017); they are currently co-editing the first-ever Routledge Companion on Indigenous art in North America, Indigenous Art Histories: Theories and Methodologies for Canada and United States (2021). Drs. Nagam and Igloliorte serve as Co-Chairs of the Indigenous Circle for the Winnipeg Art Gallery, working with the Circle to transform the institution from the inside out as they work towards the opening of the new national Inuit Art Centre at the WAG.
Dr. Heather Igloliorte, an Inuk from Nunatsiavut (Labrador, Canada), holds the Tier 1 University Research Chair in Circumpolar Indigenous Arts and is an Associate Professor in the Department of Art History at Concordia University (Montreal, Quebec), where she also serves as the Special Advisor to the Provost on Advancing Indigenous Knowledges. In the Milieux Institute for Arts, Culture and Technology, Heather Co-directs the Indigenous Futures Cluster (with Prof. Jason Edward Lewis), which will soon become the Indigenous Futures Research Centre. Igloliorte has been an independent curator for fifteen years. She currently has two exhibitions touring nationally and internationally, and is working, as the lead guest curator of the inaugural exhibition INUA, towards the opening of the new national Inuit Art Centre at the Winnipeg Art Gallery in 2021. Her nationally touring exhibition SakKijajuk: Art and Craft from Nunatsiavut (2016-2019) received an Award of Outstanding Achievement from the Canadian Museums Association in 2017. Her research, which centres Inuit and other Indigenous knowledges in the understanding of circumpolar and North American Indigenous art and art history, has been published by Duke University Press, TOPIA, Art Journal, and McGill - Queen's University Press, among others; she has three forthcoming co-edited volumes coming out in 2020-21; and her essay "Curating Inuit Qaujimajatuqangit: Inuit Knowledge in the Qallunaat Art Museum," was awarded the 2017 Distinguished Article of the Year from Art Journal.

Dr. Julie Nagam (Métis/German/Syrian) is a Canada Research Chair in Indigenous Arts, Collaboration and Digital Media and is an Associate Professor in the department of Art History at the University of Winnipeg. She is the inaugural Artistic Director for 2020/21 for Nuit Blanche Toronto, the largest public exhibition in North America. Dr. Nagam's SSHRC research includes digital makerspaces + incubators, mentorship, digital media + design, international collaborations and place-based knowledge. As a scholar and artist she is interested in revealing the ontology of land, which contains memory, knowledge and living histories. Her artistic work has been exhibited internationally, including in Brazil, France, New Zealand, and England, which includes solo and group exhibitions. Nagam's scholarship, curatorial and artistic practice has been featured nationally and internationally. She was the Concordia University and Massey University (NZ) Scholar in Residence for 2018/19, and will be the Terra Foundation Visiting Scholar at the University of Sydney (AUS) for 2021-22. Dr. Nagam is the Director of Aabijijiwan New Media Lab and Co-Director of Kishaadigeh Collaborative Research Centre at the University of Winnipeg in Manitoba, Canada. With her colleagues in Australia and New Zealand, Nagam recently co-edited Becoming Our Future: Global Indigenous Curatorial Practice (2020).

Dr. Carla Taunton
is an Associate Professor in the Division of Art History and Contemporary Culture at the Nova Scotia College of Art and Design University and the Special Advisor Decolonization and Social Justice (NSCAD) and an Adjunct Associate Professor in the department of Cultural Studies at Queen's University. Taunton is a white-settler scholar whose areas of expertise include arts-based critique of settler colonialism, Indigenous arts and methodologies, contemporary Canadian art, museum and curatorial studies, as well as theories of decolonization, anti-colonialism, and settler responsibility. Currently she is co-editing a special issue on arts-based critiques of settler colonialism to be published in spring 2021. Taunton is a co-founder and collective member of the Art and Activism Collective (Halifax) and her recent collaborative research projects include:
Archive/Counter-Archive: Activating Canada's Moving Image Heritage
(2018 - 2024),
This is What I Wish You Knew: Urban Aboriginal Artists
(2015-2018), and
Art and Activism
(2012-ongoing). Her recent publications include "Performing Sovereignty: Forces to be Reckoned With" in
More Caught in the Act
(2016), and "Embodying Sovereignty: Indigenous Women's Performance Art in Canada," in
Narratives Unfolding
(2017). She has published in
Journal of Canadian Studies, PUBLIC, TOPIA, McGill-Queen's University Press
among others. She was a curatorial team member for the National Gallery of Canada's international Indigenous exhibition,
Abadakone
(2019) and has served on numerous community-based and national advisories and councils.
CONFERENCE STEERING COMMITTEE:
Carla Neuss (PhD Candidate)
Farrah O'Shea (PhD Candidate)
Jenna Tamimi (Postdoctoral Scholar - Lewis and Clark College)
Clara Wilch (PhD Candidate)