DESIGN SHOWCASE WEST EXHIBITOR INFORMATION
Welcome to Design Showcase West!
The following information is only for students who already been contacted by UCLA's Showcase Producer. If you have not yet been contacted by the Design Showcase West Producer, please email annette@tft.ucla.edu.
ENTRY FEE:
There is a $300 entry fee, which has been waived for students this year thanks to a generous donor. A $750 University fee is also required to participate in Design Showcase West, which will be paid by the student's university. All participating Universities must pay the University fee and all exhibitors must be nominated by their faculty advisors to participate.
REGISTRATION:
You must register via the webform, which will be sent to you by the Design Showcase West Producer. If you have not received a link to the form, please contact annette@tft.ucla.edu. You are not officially an exhibitor until you have filled out the registration form.
ACCOMMODATIONS:
You are responsible for reserving your own accommodations. Click here for hotels are near to UCLA. Some offer a special rate for UCLA guests. Inquire when booking.
DESIGN SHOWCASE WEST SCHEDULE:
Friday, June 1 - CHECK-IN/LOAD-IN
9:00am-12:00pm Exhibitor check-in/load-in
Please check in by 12 p.m. or your reserved display station may be released.
Parking
You must purchase the $12 parking permit from the pay-by-space system in Lot #3 after you have unloaded your exhibit. Map to Parking for Freud Playhouse. To unload your exhibit before parking, drive into the loading area, unload, and park your car in the lot and return to the theater to set up your exhibit.  You must be finished setting up your exhibit by 4 P.M.
Important:  You will not be able to leave your car in the lot behind the theater for longer than a few minutes, so please make sure you purchase the $12 permit to park your car in Lot #3 after you have unloaded.
Saturday, June 2 - SHOWCASE AND RECEPTION:
8:00am Exhibitors arrive at Freud Playhouse
9:00am-12:30pm Industry-Only Session (invited reviewers only)
12:30pm-2:00pm Lunch reception (invitation only)
2:00-5:00pm Public Session
5:00-7:00 pm Exhibitor strike
Parking
Parking is FREE for you ON SHOWCASE DAY ONLY, AND YOU MUST DISPLAY A PERMIT!
Enter the Lot #3 from Charles E. Young Drive, tell the parking attendants at the entrance gate that you are there for the Design Showcase West. They will provide you with a complimentary parking permit.
Pastries, fruit, and coffee will be served in the morning on the stage of the Playhouse.
Please do not to invite anyone to the industry-only session or catered lunch reception. Family and friends may only attend the 2 p.m. Public Session.
REMEMBER: The Industry-Only Session and Lunch are for you to network.
STRIKE
Strike will begin immediately after the Showcase at 5pm on Saturday. You must have your table cleared before the Playhouse closes at 7 pm.
EXHIBIT SPECIFICATIONS:

Display stations will be assigned upon your arrival.
Each station will have 1 table (8' x 30")
There will be a sheet of homosote 8' wide x 4' high above and behind the table.
There will be general theatrical lighting overhead.
There will be one electrical outlet provided to each station
Refer to the attachment for an image of the station.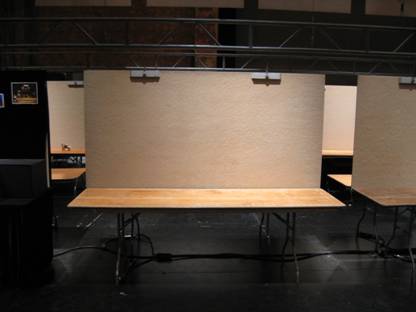 You will also need:

A power strip--we supply only one outlet
A heavy-duty 10' extension cord with 2-prong/3-wire male connector
Gaffer's tape to secure extension cord
T-Pins, thumb tacks or push pins ONLY to secure any flat work you will be showing. For safety reasons, NO STRAIGHT PINS, please.
A stack of resumes: Please have at least 200 when you arrive. There will not be copiers available.
Any type of model stands that you might need to best display your work.
Fabric or paper to cover your hanging homosote sheet AND table.
Small lights to highlight parts of your display (optional).
If you have any special needs that are not listed here, please contact us ASAP. We will do our best to accommodate you.
If you have any questions or concerns, please email us at dsw@tft.ucla.edu or call 310-825-7008.
ACCOMMODATIONS:
You are responsible for reserving your own accommodations. The following hotels are nearby to UCLA and some offer a special rate for UCLA guests. Inquire when booking.
Hotel Palomar
10740 Wilshire Boulevard
Los Angeles, CA 90024
310 475 8711
Book online for UCLA Corporate rate: $232
https://gc.synxis.com/rez.aspx?Hotel=26744&Chain=10179&promo=UCL
Hotel Angeleno
170 N. Church Lane
Los Angeles, CA 90049
(866) 264-3536
Exclusive UCLA rate:  $199+tax
Mention "DESIGN SHOWCASE WEST UCLA" to receive the group rate or book online at:
http://tinyurl.com/DesginShowcaseWESTUCLA2017
Offer valid until May 19, 2017 - Book now!
Hilgard House Hotel, Westwood Village
927 Hilgard Avenue
Los Angeles, CA 90024
310-208-3945
UCLA Special:  $177+tax single/$182+tax double
Budget Accommodations--it's Spartan!
Claremont Hotel
1044 Tiverton Ave
Los Angeles, CA 90024
(310) 208-5957
$70
Limited rooms are available at on-campus hotels. Call early to reserve.
UCLA Meyer and Renee Luskin Conference Center
425 Westwood Plaza
Los Angeles, CA 90095-1466
(855) 522-8252
http://luskinconferencecenter.ucla.edu/reserve $229
UCLA Guest House
330 Charles E. Young Drive East
Los Angeles, CA 90095-1466
(310) 825-2923
http://guesthouse.ucla.edu $229
UCLA Tiverton House
900 Tiverton Ave.
Los Angeles, CA 90024-3013
(310) 794-0151
http://tivertonhouse.ucla.edu
$159